About Enan Galaly
Enan Galaly - Founder of Helnan Hotels , Chairman "Advisory Council of the International Association of University Presidents", has been awarded more than an honorary doctorate in recognition and honor of his status from many countries such as the United States of America and Japan in the presence of thousands to listen to his words and speeches, Ambassador of Denmark for the historical Relations to the Middle East, holds the title of 1st Degree Knight of Dannebrog from her majesty the Queen of Denmark Margrethe II, in addition to multiple prestigious posts.
Born in Heliopolis – Cairo to an academic family, as youngster, Enan was a Scout leader boy and an active member in many social and sports activities, disregarding the educational studies which affected his performance in school to be the last in the classroom for years.
Read More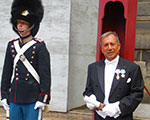 Personal Proverbs
"Time has elapsed for municipalities, governments and states that officials and public sectors to continue acting as a baby sitter for the society development".

"Money is not just a figure in a financial institute account, but a tool to expand experience that can enhance development in many sectors".

"We must not turn our back to our origin, culture, nation, race, values and family. Each human should be proud of his/her native land representing the core of his/her humanity, as we all do.









Stay Connected